7.2V Cylindrical lithium battery, 18650 3300mAh for smart toilet
Product Detail
Make an inquiry
Product Tags
.Voltage of single cell: 3.6V
.Nominal voltage after battery pack combination: 7.2V
.Capacity of single battery: 3.3ah
.Battery combination mode: 2 strings 1 parallel
.Voltage range of battery after combination:5.0V~8.4v
.Battery capacity after combination: 3.3ah
.Battery pack power: 23.76Wh
.Battery pack size: 20*39*67mm
.Maximum discharge current: < 3.3A
.Instantaneous discharge current: 6.7a-10.05a
.Maximum charging current: 0.2-0.5c
.Charging and discharging times: > 500 times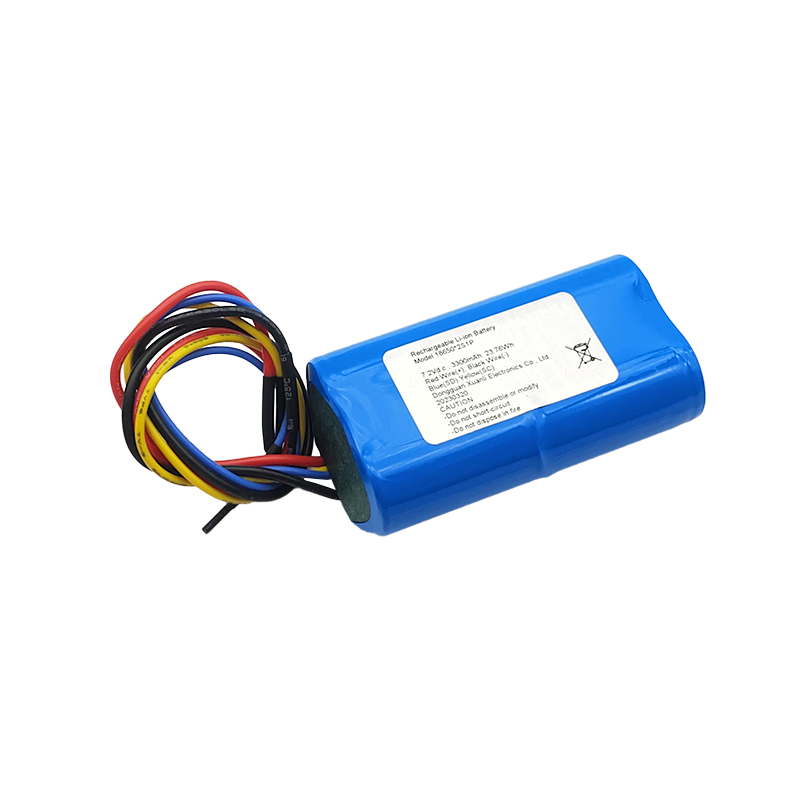 XUANLI electronic Co., Ltd is an experienced manufacturer of batteries specialized in smart battery packs,18650 lithium batteries,polymer lithium batteries,lithium iron phosphate batteries,power batteries,battery chargers and various special batteries.
We welcome OEM and ODM orders and we sincerely hope to work with you hand in hand to create a prosperous future.
1.Technology-With more than 20 years of battery manufacturing and automatic production line, xuanli can guarantee our products better products.
2.R&D-Experienced R&D team with over 20 engineers for supporting ODM requirements
3.Safety-Various tests are done at XUANLI to ensure the safety of our products for our customers.
4.Certificates-ISO、UL,CB,KC certificated.
5.Service-XUANLI has a professional sales team to provide professional project solutions and after-sale services.
(1) Portable equipment: Laptop, camcorder, PDA, digital camera, portable DVD etc.
(2) Home appliances: Two-way radio, Walkie-talkie, Electric toys, Electric bicycles, Emergency lighting
(3) Military equipment: IR telescope
(4) Medical devices
(5) Power tools
We strictly obey battery transportation rules of air, express or sea request. Normally, each battery will be packed by PE or other insulation bag, carton, and ensure each one must be insulated from others, we also accept special inner packaging for each battery as your request.
Lithium batteries are regarded as dangerous goods during the transportation. We have long-term cooperation shipping companies who is professional in shipping lithium batteries in China. We can help to operate DDP, DAP, FOB or other services.
---
---