25.2V Cylindrical lithium battery, 18650 3350mAh
Product Detail
Make an inquiry
Product Tags
.Voltage of single cell: 3.6V
.Nominal voltage after battery pack combination: 25.2V
.Capacity of single battery: 3.35Ah
.Battery combination mode: 7 strings and 1 parallel
.Voltage range of battery after combination:17.5v-17.64v
.Battery capacity after combination: 3.35Ah
.Battery pack power: 84.42Wh
.Battery pack size: 20*130*67mm
.Maximum discharge current: < 3.35A
.Instantaneous discharge current: 6a-9a
.Maximum charging current: 0.2-0.5c
.Charging and discharging times: > 500 times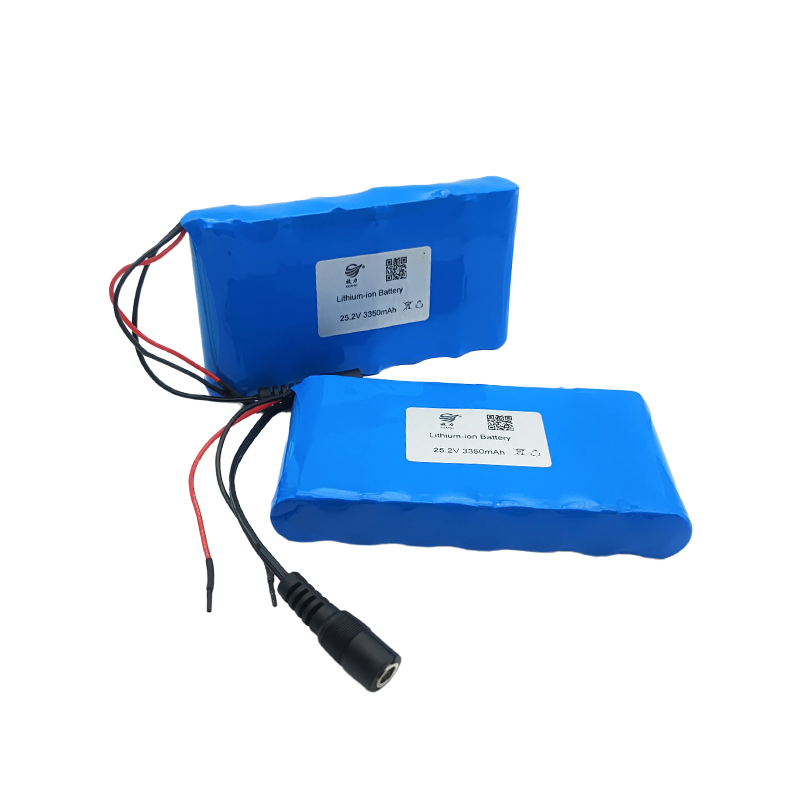 25.2V Cylindrical lithium battery:
25.2V cylindrical lithium battery
Meet the relevant national standards and requirements for batteries
All finished battery products are calibrated and tested before delivery. They can be used directly and normally.
If you need a battery with a higher capacity and a higher price-performance ratio, 3350mAh is a very good choice. The country of origin is China, and the technology is relatively mature.
China is a major producer of lithium batteries, and our batteries are exported to many countries around the world, such as the United States, the United Kingdom, Japan, South Korea, etc., and our lithium batteries can pass local national certifications and international certifications.
When you produce a new electrical product, do you think that the battery is a very important part? I think the answer is yes. The battery may affect the performance and safety of electrical appliances. A battery with good quality and high product performance will make users less annoyed when using this product. In this regard, I think you can trust Xuan Li.
Q1: How about your daily output?
A: Our daily output could reach 50000pcs.
Q2: How many COTS models do you have?
A:More than 2000COTS cells are available. Customized is also welcomed. Tooling cost would be free of charge once it reaches the target quantity.
Q3: Could you offer free sample to test?
A: In general, we offer it for new customer after they pay the sample fee, and we will refund the sample cost for them when massive order is confirmed..
Q4: How about the shipping?
A: We have some good-cooperated shipping agents. They have much experience in shipping batteries. You can also use your own forwarder.
Q5: How many days will it take for the order?
A: It usually takes about 7~10working days if there is stock. For customized or if there is no stock, the lead time would be about 30~40working days for mass production.
---
---