3.7V Cylindrical lithium battery, 14250 240mAh
Product Detail
Make an inquiry
Product Tags
.Voltage of single cell: 3.7V
.Nominal voltage after battery pack combination: 3.7V
.Capacity of single battery: 0.24Ah
.Battery combination mode: 1 string 1 parallel
.Voltage range of battery after combination:3.0V~4.2v
.Battery capacity after combination: 0.24Ah
.Battery pack power: 0.888W
.Battery pack size: 14*15*27mm
.Maximum discharge current: < 0.12A
.Instantaneous discharge current: 0.24a-0.36a
.Maximum charging current: 0.2-0.5c
.Charging and discharging times: > 500 times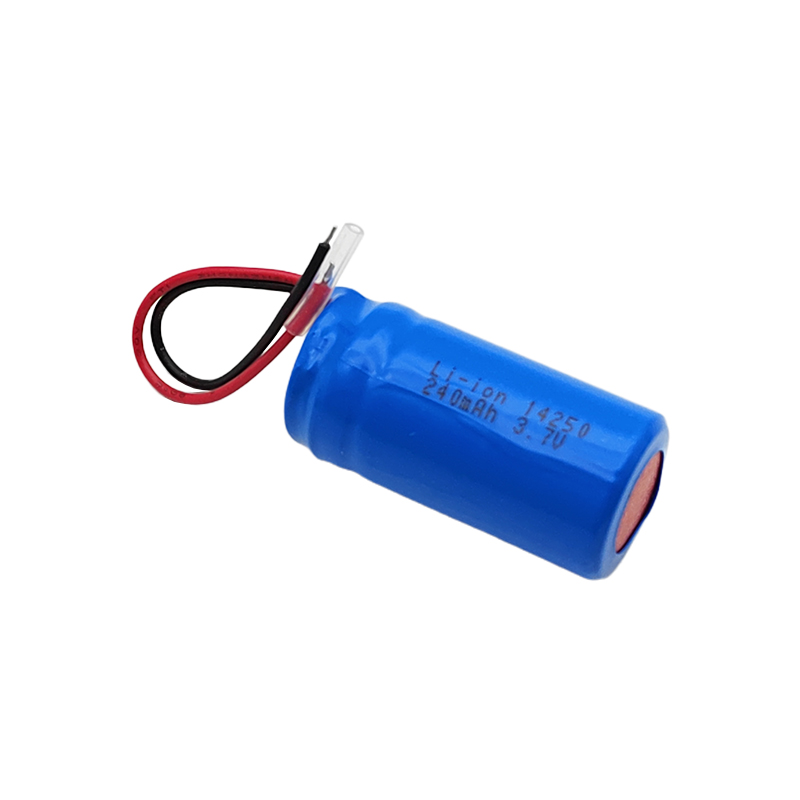 Bluetooth headset, Portable speaker, Muti car jump starter, power bank, Auto cleaner, GPS tracking, Digital ADSL device, Flashligting, emergency lighting, laptop, solar board, ups power, smart phone, wireless microphone, MP3, Walk man, Cordless Phone, Notebook, Video Camera, Digital Camera, Digital Products, Portable DVD, Mobile Communication, Electronic Toys, Game Player, Solar LED light, Emergency lighting, Power tools, E-bike, Medical Equipment, etc.
● High energy density and high voltage of 3.7V
● Lighter and thinner, size could be flexible according to requirement
● Extremely safe, low self-discharge and has long cycle life
● Pollution-free, green product
● Wide operation temperature: -20oC~60oC
1. Long cycle life-capacity recovery can be above 80% after 500cycles
2. Safety-No fire, no explore of short-circuit, over-charge, over-discharge, over-current, Shock, vibration, crush, acupuncture.
3. Superior storage characteristics-The self-discharge rate of xuanli Lithium-ion polymer battery is about 3% per month when stored at room temperature
4. Various Products-Hundreds of moulds from micro size10mAh to large capacity 10000mAh.
---
Previous:
Factory Outlets Airflow Adjustable E-Juice Indicator Rechargeable 20ml 10000puffs Mesh Coil Wholesale I Vape Pen Disposable Vape
---